In Ukraineis the gap between the poor and rich part of the society incredible huge. The normal population has to deal with an income of less than 3000 Griwna (around 112€) per month, while the oligarchic families exploiting the state and its own folk. It is surprising that there is no left-winged party or even movement who truly fights for the rights of the deprived part of society. But Ukraine is not lost for the social democracy: The New Social Democratic Platform (SDP). SDP, colored in red and blue, is a new social and political movement that brings together young people from different parts of Ukraine sharing the values of freedom, justice and solidarity, as well as to change the stereotypical perception of social democracy. They are organizing workshops, do various strong social media based initiatives and discuss with people why social democracy is important. It is an organic growth, they say, to move forward to become in near future a visible left-oriented European political force and to take over responsibilities for the future ofUkraine. But it is not so easy to be social democrat in Ukraine. Within short time SDP activists managed to develop very small youth organization into a very active youth movement recognizable all over Ukraine. The characteristic feature of this movement is ideologically based network. Currently, it is a Ukrainian homemade success story from what we "old" comrades can learn – all over Europe.
Discussion of success stories – milenstones provided!
Bohdan Ferens, the Founder of the SDP, stands up from his chair in the beer hall, talking to his more than 50 comrades: "I am happy that you all came, my comrades, to gather together to fight for a more social democratic Ukraine." He drinks to the crowd, thanks again for their visit in the capital city ofUkraine. Now they have enough reasons to celebrate at the third annual forum. The comrades sat more than eight hours together to sum up the results of all activities and initiatives in 2015 and to discuss the strategic plans for the following year. The movement exists for three years and is getting more and more interim structure. Thus, they elected for the regions their own coordinators. In the SDP are more or less 200 active members who are organizing various initiatives to stimulate debates about social democratic issues – and someone has to manage more than 950 activists from different regions of Ukraine. Here in dots the main decisions:
External SDP-decisions:
promoting the principles of social-democracy in Ukraine, supporting European integration of Ukraine;
peace resolution of the conflict in the East of Ukraine,
protection of social rights (trade unions, wage growth economic strategy),
advocacy of interests of youth (first working place, access to education etc.),
political education (especially in rural areas), anti-populism campaign, promoting gender equality issues
Internal SDP-decision:
regional coordinators were elected in most regions ofUkraine;
coordinating body was elected aiming at consolidation of functional regulation in working areas;
analytical dimension of activities was established;
women's wing of SD Platform launched;
informational electronic SDigest will start from 2016;
Campaigns of the Ukrainian comrades
Also, nearly every week new activists are starting to follow SDP. The reason is clear: The Ukrainian comrades are doing a really good job when it comes to communication and social media presentation. Let me name only two big campaigns, how they cached the attention of the mass:
During the local election in Ukrainein autumn 2015 they launched a campaign "Youth. Our voice." with the aim to involve young people to be more responsible in political context. They asked the Ukrainian community to put a selfi only when they put the ballot card into the box. This is really necessary, because the election scale is really low and when it comes to the part of the youth it is less than 40 percent. Even if the SDP is not organized as a party they are promoting the election. "We have to communicate to people why it is important to vote", says Olga Chichina who is one the few comrades elected to sit in the city council of Kharkov, in collaboration with one of the main parties. "We are facing the problem that the youth is depressed and does not believe in democracy", says the 22-old Olga. She wants to change it and is one the 12 new faces in the city council, among more than 120 – only 10 percent new people were newly elected to the council. "I know that it is not easy, but our generation has to struggle for a free, social and democraticUkraine." As Olga is wit 22 years quite young many other SDP activists are in the middle 20s up to 40s. Most of them are full time employed, having a family or are internal refugees from the east of Ukraine. But they are all united in the wish to change the country.
Another big part of their activities is interviewing ordinary people and making promo videos on that like the campaign "Beat Populism". The comrades from SDP produced various videos in Ukraine to discuss with people the problem of populism, why it is dangerous and they give a short message to the camera. Many people said what they are thinking – in public. The Ukrainian society is still shaped and influenced the repressive Soviet one, where the individual was suppressed by the collective thinking. To formulate individual ideas or to gather together to interests groups was more or less forbidden. One may say that the communistic dictation destroyed the social society. That is one reason why it is really to honor that the comrades are giving the normal folk a voice, to express their feelings and ideas. Another big part of their campaign work is the picture. One picture can say more than thousand words – and they are in high quality to capture the moments.
 International meetings of SDP 
The SDP is not only active in the World Wide Web. They are arranging workshops, inviting international guests and network to all over Europe, like to the Social Democrats from Germany, The Netherlands, Belgium or directly to the Members of the European Parliament. This cooperation shows, that the SDP is taken seriously. As an example, some SDP members visited Franz Thönnes, SPD-Politician and member of the German Parliament, in Germany and joined him to the European Parliament in Autumn 2015. The European social democratic movement welcomes the comrades. But for everybody it is clear: It will take some time. "We do not want to rush. To build up real party structures takes time. Ukraine has a weak civil society, we do pioneer work", says Bohdan and adds, that the SDP is willed to shape the Ukrainian society. So, they do and in end of February will be a next big workshop (Winter #SD_Campus) in cooperation with the Friedrich-Ebert-Foundation and trade unions of Ukraine. It is another important dimension of SDP in the complexity of reforming of trade union's movement in Ukraine. They are not very open to cooperation with other political forces; they have a lot of internal problems. But consolidating the efforts of the youth leaders will give the opportunity to change the situation and strengthen the role of trade unions in this difficult period of crisis. They are also quite active in web, as you can on the FB-page "New Vision". By the way, the Youth council of Federation of trade unions of Ukraine is learning from the initiatives and formats of SDP like "Campus" or thematic clubs. It shows that older formations like them has to be modernize and become more creative – SDP is for interim Ukrainian groups a format of success!
SDP: The great social democratic future is coming when you create it!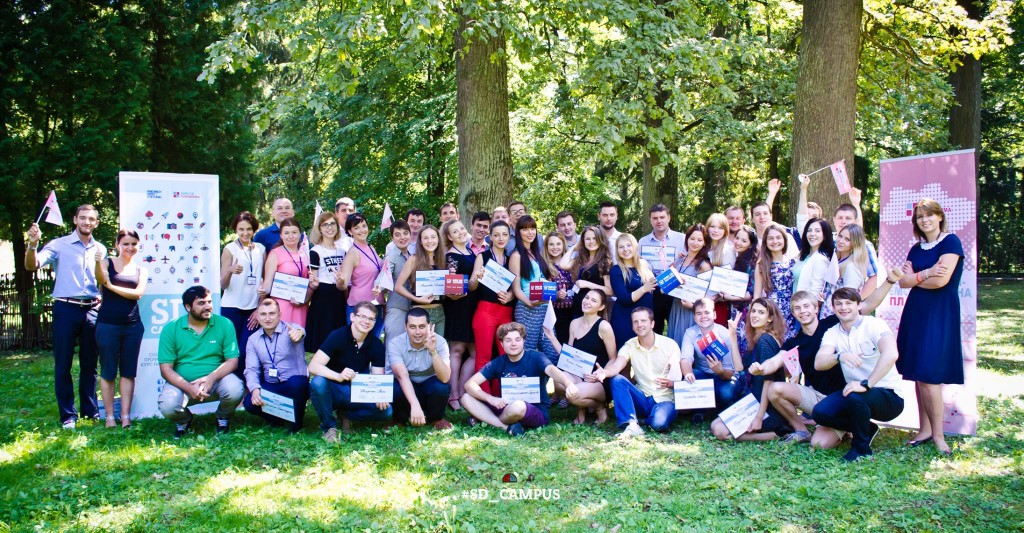 Europe or better to say the Social Democratic parties in Western societies should support this movement with more efforts. It is necessary, that Ukraine becomes support, not only financially but also ideally. One should not get the impression that we cannot learn something from the Ukrainian social democrats. We can and we should learn a lot! It is impressive with how much emphasis they work and on which high level they making campaigns with a really limited resources. Also, we should not forget, the daily life is still much more complicated than we western Europeans can imagine. Therefore, we old social democrats should ask ourselves, why we are not fight any more, why we do not believe in the change, how they do. However, I really believe in this movement and the participants. I am totally confident that they will reach the goal to shape the society. In personal talks you can feel that they want to take over responsibilities. So, I hope that they gather together in party structures – that Ukrainians have one option more for the next coming election. And we social democrats all over Europe have to support them – even with men power. Comrades all over Europe – you should come to Ukraine!
Here you can get further information about the New Ukrainian Social Democrats: Join them!
01030Ukraine, Kyiv, B. Khmelnytskogo str. 51-b
tel. (+38044) 2553379, fax (+38044) 4030213
https://www.facebook.com/NewSDPlatform
e-mail: sdplatforma@gmail.com